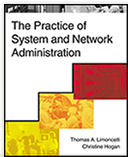 15 years ago today (or August 24, 2001 depending on who you talk to) the first edition of The Practice of System and Network Administration reached bookstores.
We had been working on the book for 2+ years, having first met during a Usenix conference in 1999. Writing it was quite an experience, especially since this was before voice-chat on the internet was common, and we were on different continents (Christine in London and Tom in New Jersey). We collaborated via email, used CVS for our source code repository, and we had monthly phone calls (which Tom dialed from work... Thanks, Lucent!). At the time collaborating this way was considered quite radical. Most authors emailed chapters back and forth, and had a hell of a time with merge conflicts. Our publisher was amazed at our ability to collaborate so seamlessly. This kind of collaboration is now commonplace.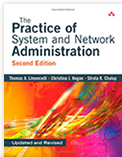 The book did quite well. We've sold more than 38,000 copies, in 3 editions (2001, 2007, and 2016), and many printings. It is available on softcover, ebook, and as a web page. It has been translated into Chinese and Russian. In 2005 we received the Usenix SAGE/LISA Outstanding Achievement Award. The 2nd and 3rd editions added an additional co-author, Strata R. Chalup. Strata's experience and project management skills have been a real asset. We've worked with many editors and other production people at Pearson / Addison-Wesley, starting with Karen Gettman who originally recruited us. Thanks Karen, Catherine, Mark, Debra, Kim, Michael, Julie and many others!
We've had a number of surprises along the way. Our favorite was visiting Google (before Tom worked there) and shown a supply closet full of copies of the book. It turned out all new Sysops members were issued a copy. Wow!
Most importantly, we've received a lot of fan mail. Hearing how the book helped people is the biggest joy of all.
In November, the 3rd edition will reach bookstores. We're very excited about the new edition. It has over 300 pages of new material. Dozens of new chapters. It is more modern, better organized, and has a lot of great new stories. You can pre-order the book today. You can read drafts online at SBO. Visit the-sysadmin-book.com for more info. (This is not to be confused with the sequel book, The Practice of Cloud System Administration.)
Thank you to everyone that has purchased a copy of The Practice of System and Network Administration. We really appreciate it!