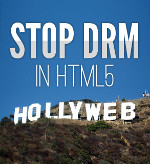 Today is the International Day Against DRM.
As an author, and one that is currently living on unemployment insurance payments, DRM-free scares the shit out of me. Every book I've ever published has been pirated. Some I have even found in the "/tmp" directory of open HTTP servers. Every time I see my books pirated I die a little inside.
Writing is very difficult for me. People don't realize how hard it is. How do I stop procrastinating and sit down to write? I eliminate everything else "tempting" from my life for a year or two until the book is done. Do you know what's more tempting to do than writing? Everything. This basically means anything fun... eliminated. It kills my nights and weekends. It kills my social life. I say "no" to every invitation, movie night, gaming night, etc. When the book is done I always hold a big party to celebrate but also to re-introduce myself to my friends and loved ones that I've haven't seen in so long.
While DRM-free media scares me, I know it is important to be able to store media on all your devices, move it around and so on.
Producing DRM-free media is about trust. It is the author showing trust in the readers that they will do the right thing when it comes to paying for what they use (if there is a charge) and trust that people will abide by whatever copyrights the creator has placed on the work. It is the customer showing trust in the producer that they set reasonable prices.
I want to live in a world with that kind of trust. Publishing books without DRM is, to me, an experiment in seeing if that is the kind of world we can create.
That's why I support the "Day without DRM".
O'Reilly demonstrates this trust. It publishes Time Management for System Administrators at a reasonable price. You can download it in many formats, as many times as you wish. You can read it in HTML on Safari Online.
This is a critical moment in the fight against DRM. A proposal currently being considered by the W3C would weave DRM into HTML5 -- in other words, into the very fabric of the Web. This would be bad. If there is DRM on the web, let it remain as proprietary plug-ins, not a requirement of owning a web browser.
I'm against including any DRM in HTML5. I hope you are too.
To celebrate "Day Against DRM" you can purchase "Time Management for System Administrators" and 5000+ other O'Reilly eBooks for half price. Use discount code: DRM2013. Deal expires May 3, 2013 at 11:59pm PT.